Slinex: сhoose an award-winning device that you like
A diversity of designs and color solutions will allow you to choose a video intercom and an outdoor panel that fit perfectly in your home.
Since 2005, we have been creating video intercoms, outdoor panels, as well as additional accessories for our devices. Slinex has earned a reputation as a leading innovator in the field of video intercoms. Even if we don't talk about the unique and advanced technical solutions in Slinex devices, talking about their design alone will take no less time.
Our award-winning designs have delighted users in over 58 countries. Slinex has been recognized as:
• a Top Design Winner in the European Product Design Award™;
• a Gold Winner in the Muse Design Award™;
• a Silver Winner in the NY PRODUCT DESIGN™.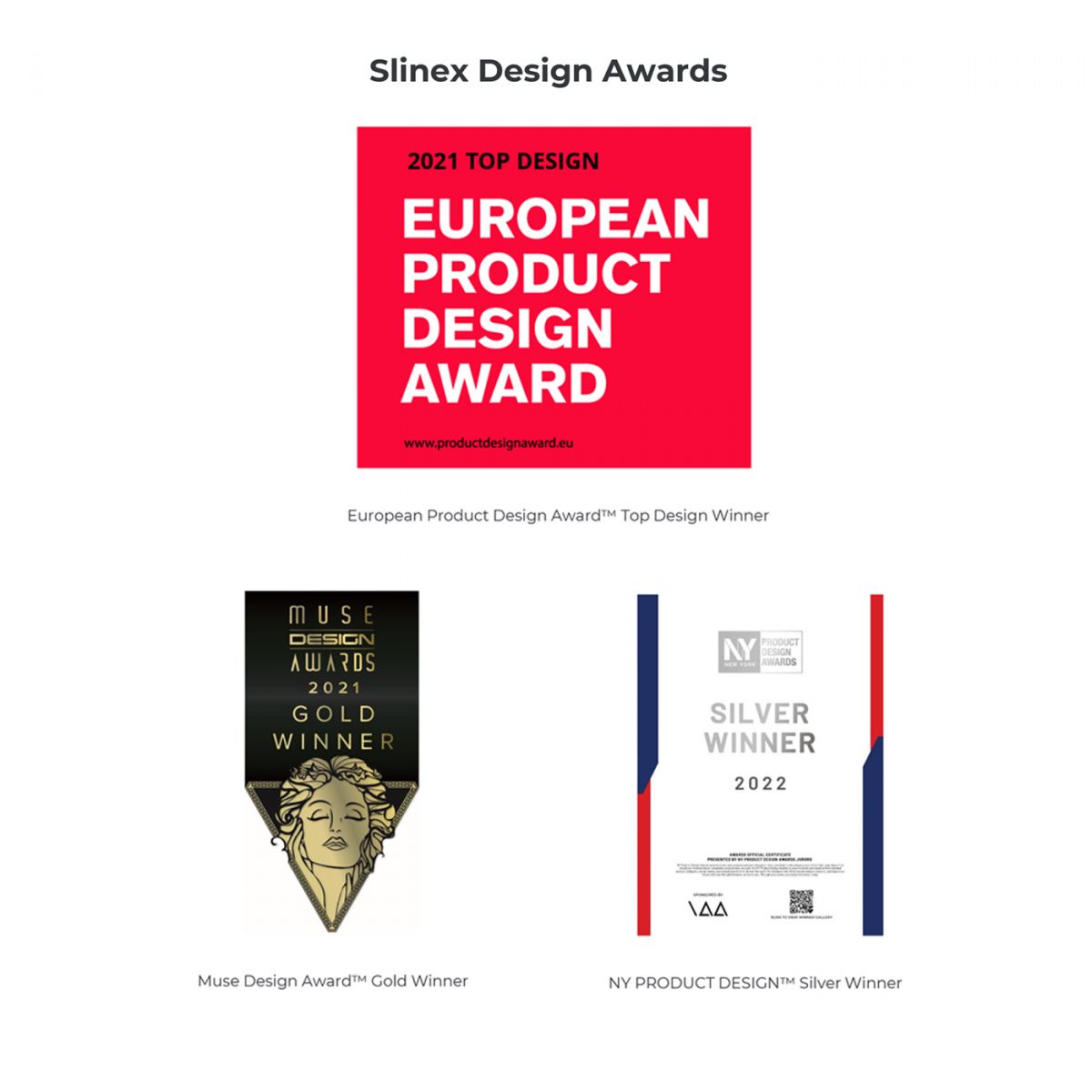 Video intercoms
The Slinex video intercom is a perfect addition and decoration to any interior. For instance, you will be surprised by the adaptable design of the SONIK line video intercoms. One of the notable features of the SONIK is its capacity to adjust the device's color based on your preferences and mood. These monitors come with two primary unit colors and four interchangeable panels in vivid hues.
Learn more about SONIK's:
• Slinex Sonik 7 – the radically new multimedia video intercom from Slinex that will become your favorite
• Slinex Sonik 7 Cloud is the first representative of the SONIK series with the ability to forward incoming calls to the Slinex Smart Call mobile application
• Slinex Sonik 10 – a new video intercom with a large screen and great features
Another designer video intercom line is the SL line by Slinex. The appearance of the SL line devices is able to impress at first glance. It has a perfectly smooth surface and a pleasant gloss. Devices of the SL Line are available in two color combinations: Silver + Black and Silver + White.
SL line by Slinex consists of:
• Slinex SL-10N Cloud – flagship video intercom with smartphone call forwarding, quad and MP3 support
• Slinex SL‑07N Cloud – stylish video intercom with call forwarding on your smartphone
• Slinex SL-10MHD – intercom with a large IPS screen screen and software motion detection
• Slinex SL-07MHD – an easy-to-use intercom with IPS screen and detailed customization
Introducing a stylish Slinex SQ-07MTHD model with AHD support. Slinex SQ-07MTHD, unlike most video intercoms, is equipped with a 7'' tempered glass screen. This material is more pleasant to the touch and provides a clearer, more vibrant image. This videointercom can be used both in an apartment or a country house with any interior design, as well as in commercial premises. Slinex SQ-07MTHD sets a new trend in video intercom design and is the best choice on the AHD intercom market.
Modern design, compact size, and reliable performance make the SQ-04 and SQ-04M favorites in the entry-level price segment. Touch-sensitive buttons and a high-quality display provide maximum comfort during use.
Outdoor panels
Slinex ML-17HD has introduced a fresh series of outdoor panels, featuring a sleek metal body entirely in black. The design is minimalist, with no extraneous elements, and is highlighted by a distinctive blue-tinged call button that is sure to leave a lasting impression.
Learn more about Slinex ML-17HD – a fresh look at analogue outdoor panels.
Slinex ML-20TLHD – outdoor panel with a touchless call system. The new Slinex ML-20TLHD has the premium design of the ML-20HD outdoor panel with only one difference – a new All-black colour. The black metal housing with eye-catching acrylic overlay and blue LED illumination of the contactless button will make you look at the familiar design in a different way!
Not only is the Slinex ML-20HD outdoor panel a practical device, but it also adds a touch of style to any interior or exterior design. With its sophisticated design and smooth finish, it is an excellent option for designers aiming to create an aesthetically pleasing entrance. The panel is a perfect match for those who prioritize beauty and design in their surroundings, making it an optimal choice for any contemporary home or office.
Slinex MA outdoor panels – one AHD panel with card reader for many subscribers. Unlike other multi-apartment solutions, MA panels have a distinct appearance. The aluminum case is polished to a high shine, and a camera with a mechanical IR filter is surrounded by fashionable LED lights. The speaker is positioned to face the listener, and a read indicator light is activated when a wireless card is detected. There is no need to remove headphones or listen for the door to open to see the indicator. 
There are outdoor panels for 1,2,3 and 4 subscribers, respectively. MA-08 is an extension module, connecting up to 8 additional users. For each of the calling panels, you can connect two MA-08 modules at the same time and expand the number of subscribers to 16 and 20, respectively.
This is only a part of what Slinex has to offer you. Contact us now to learn more about the designs and features of Slinex devices.
For cooperation
Sales manager: sales@slinex.com
Customer service: info@slinex.com
Or just call us: +380914819101