Sonik 7 Cloud – the first SONIK series with call forwarding
Sonik 7 Cloud is the first device that works with the new Slinex Smart Call mobile application. Already on sale.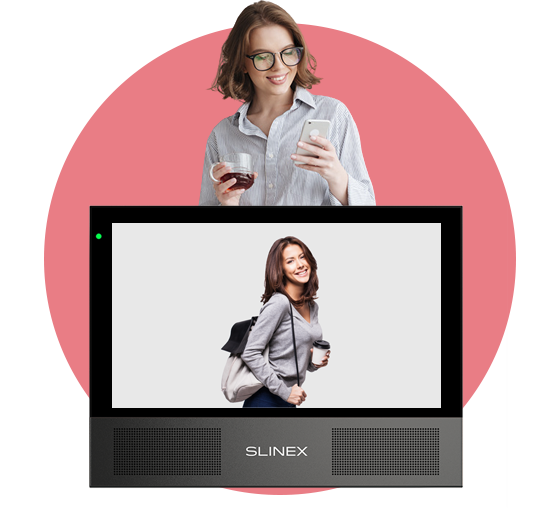 The SONIK line has become a real rethinking of the approach to video intercom. The monitor is no longer just a means to see who is ringing the doorbell. Now it is a convenient full-fledged multimedia device for viewing photos and videos, listening to your favorite music, etc. But now it's time to take a new step.
Slinex Smart Call: a new platform for call forwarding to a smartphone
Sonik 7 Cloud – the first device that will work with a fundamentally new mobile application Slinex Smart Call, designed to make working with the functions of a video intercom from a smartphone as simple and stable as possible.
Adaptive design
A common feature of all devices of the SONIK line is the ability to change the color of the device depending on the mood. Sonik 7 cloud has two main unit colors: black or white. No matter which color you choose, you also receive 2 changeable panels. This gives you a choice of 4 unique colors which will certainly show your personality and sense of style.
Clarity UI: intuitive interface
Clarity UI, the interface of Sonik 7 Cloud, is based on the three-click rule. In order to get to any of the settings of the SONIC devices, you will need to make no more than three taps on the touch screen. Special attention should be paid to the highest speed of the screen response to your touch. Everything happens instantly without the slightest delay.
Juicy sound of your favorite songs
SONIK is about high quality sound. In the devices of the line, the speakers are directed towards the listener, and not into the wall, they are located in a special acoustic chamber, so that the sound becomes voluminous and saturated. Usually, one speaker was installed in video doorphones, which is turned towards the wall, which makes the sound dull and fuzzy, like an old smartphone. With the SONIK series, the era of bad sound for intercoms is over. 
Sonik 7 Cloud – you will hear it even away from home
Read more about Sonik 7 Cloud in the article.
Find out about all the features on the Sonik 7 Cloud video intercom page.