The new Sonik 7 is astounding
Slinex has released the first video intercom of the SONIK line. Now on sale.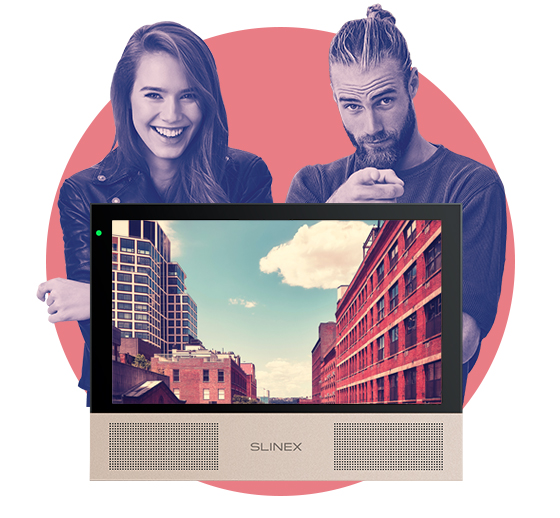 IPS touch screen, 2 powerful speakers, motion detection function, replaceable bright color panels, smart photo frame mode are just a small part of the new SONIK line-up.
Responsive design
Your own design. The Sonik 7 has two main body colors. In the box you will find 2 removable different colored panels that you can easily change depending on your preferences.
IPS touch screen and new interface
The Sonik 7 does not have mechanical buttons. Everything is controlled by touching the screen and you will be surprised by the brightness and contrast. Thanks to the intuitive interface, you will need a minimum number of touches to adjust any of the parameters of the video intercom.
Powerful speakers up front
You can listen to downloaded mp3 ringtones directly on the intercom; their sound will be clean and loud. For the first time in the history of the video intercom you have 2 powerful speakers, which are located in the front. The sound is directed towards the listener and thanks to a separate acoustic camera, it becomes more voluminous and more saturated.
Advanced security
Connect up to two cameras and call panels to the Sonik 7, build a full-fledged CCTV system and secure your home. Switch between the cameras during the conversation, so as not to give the attackers the slightest chance.
The Sonik 7 is the first multimedia video intercom with powerful features and a modern design that will become indispensable in your home, emphasize your sophisticated style and give you a sense of calm and security.
Check out Sonik 7 in detail in our article.
Learn about all the features of the Sonik 7.