Slinex ML-16HD – maximum protection with incredible image quality
NEW! If you are looking for a sturdy vandal-proof outdoor station and want to get a superb quality image - Slinex ML-16HD is what you need.
The well-known metal case taken from the ML-16HR got a new hardware. Outdoor panel received many useful functions: an improved Full HD video camera, AHD standard video signal support, an increased viewing angle and a mechanical IR-filter.
Together with you, we will compare the previous ML-16HR with the new ML-16HD.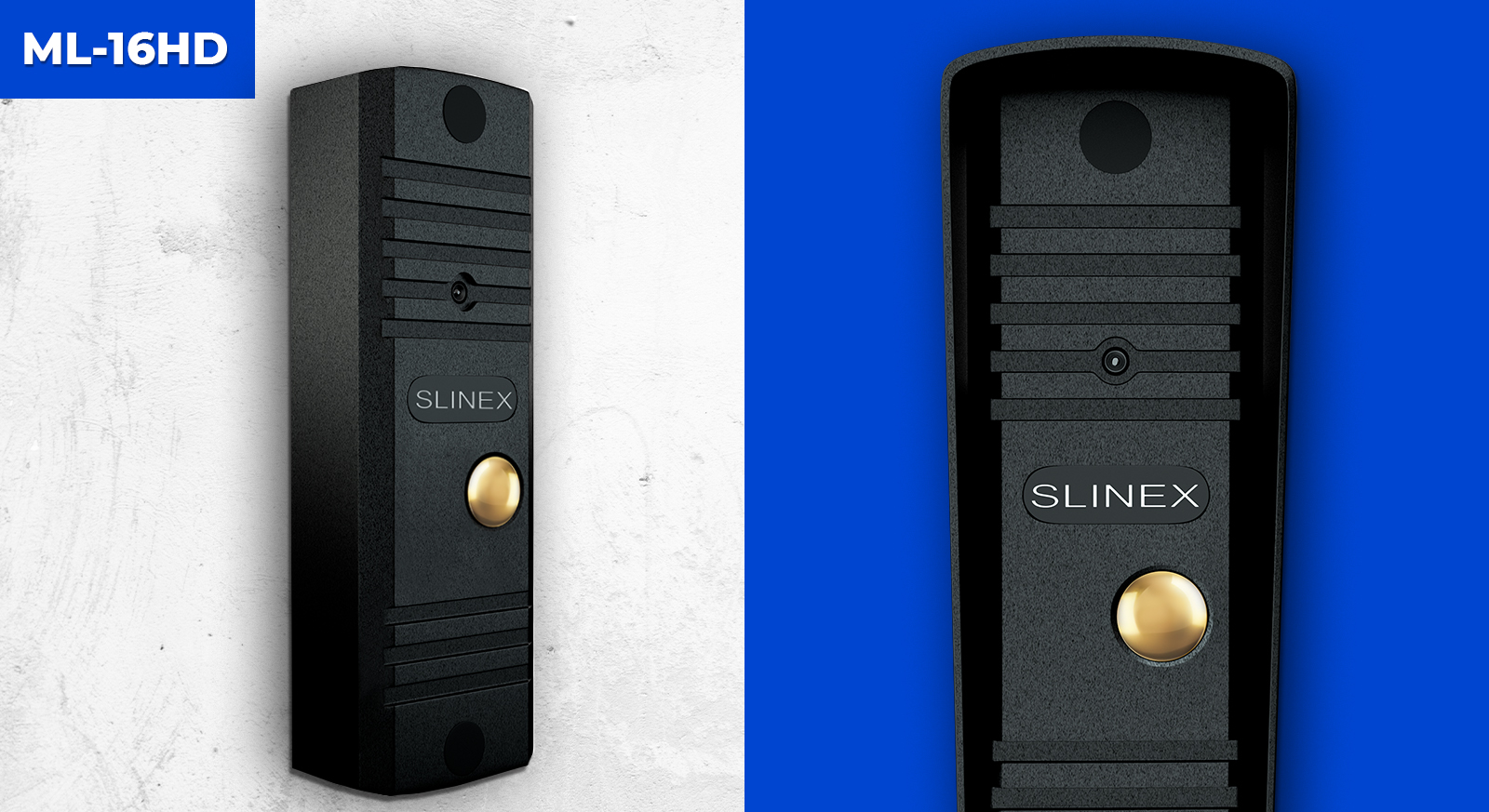 Camera
ML-16HD is equipped with a camera that meets modern analog standards. Let's consider its main characteristics.
AHD is better than CVBS
The new model supports AHD-H and AHD-M video signal standards in addition to CVBS. While using an analog CVBS signal video resolution is strictly limited by the number of lines in the television standard. For example, for PAL, the number of lines is 720. Thus, the maximum image resolution will be 720 × 576 pixels. This is enough to recognize the visitor, but not enough to get a high-quality image.

ML-16HD received a 2-megapixel camera with 1920 × 1080 pixels resolution. You will enjoy a clear image and will be able to note the smallest details of your visitors.
Viewing angle
The viewing angle of ML-16HD outdoor station is 76°. This is 11° more than ML-16HR. It can seem that the difference is small, but such an improvement provides a valuable additional view area. The angle of 76 ° is quite reasonable and it allows you to see not only what is happening directly in front of the camera, but also on the sites. Outdoor panel main task is that you can accurately recognize the visitor. A wide angle allows you to see a person who stand close to the camera better. In combination with FullHD resolution, you get the sharpest and most detailed image.
Natural color during the day. Superior quality at night
The human eye does not see the infrared spectrum of the light radiation, but video camera can detect it very well. In daylight, sensor of the camera captures infrared rays, which leads to color and image contrast distortion. ML-16HR has an elegant solution to this problem - a static IR filter. It blocks infrared rays and the user see the image in natural colors. Nevertheless, such a technology significantly decreases visibility at night. ML-16HD has a mechanical IR filter. During the day, it prevents unnecessary radiation from getting to the camera sensor and at night mechanism inside the camera shifts the IR filter and all available light reaches the sensor with no obstacles. In combination with infrared backlight, ML-16HD shows high-quality image during the day and night.

The most protected enclosure among Slinex outdoor panels
ML-16HD is an anti-vandal outdoor panel. Its body is completely made of metal and is not afraid of any kind of damage. The panel is protected according to the IP65 standard. It means that it is not afraid of dust and moisture. In addition, you can find a rain shield in the ML-16HD box. It provides additional protection from the sun and rain. A flush mounting bracket is supplied with the new door station. Thanks to this, the device hangs on the wall even more securely and leaves no chance to the vandals.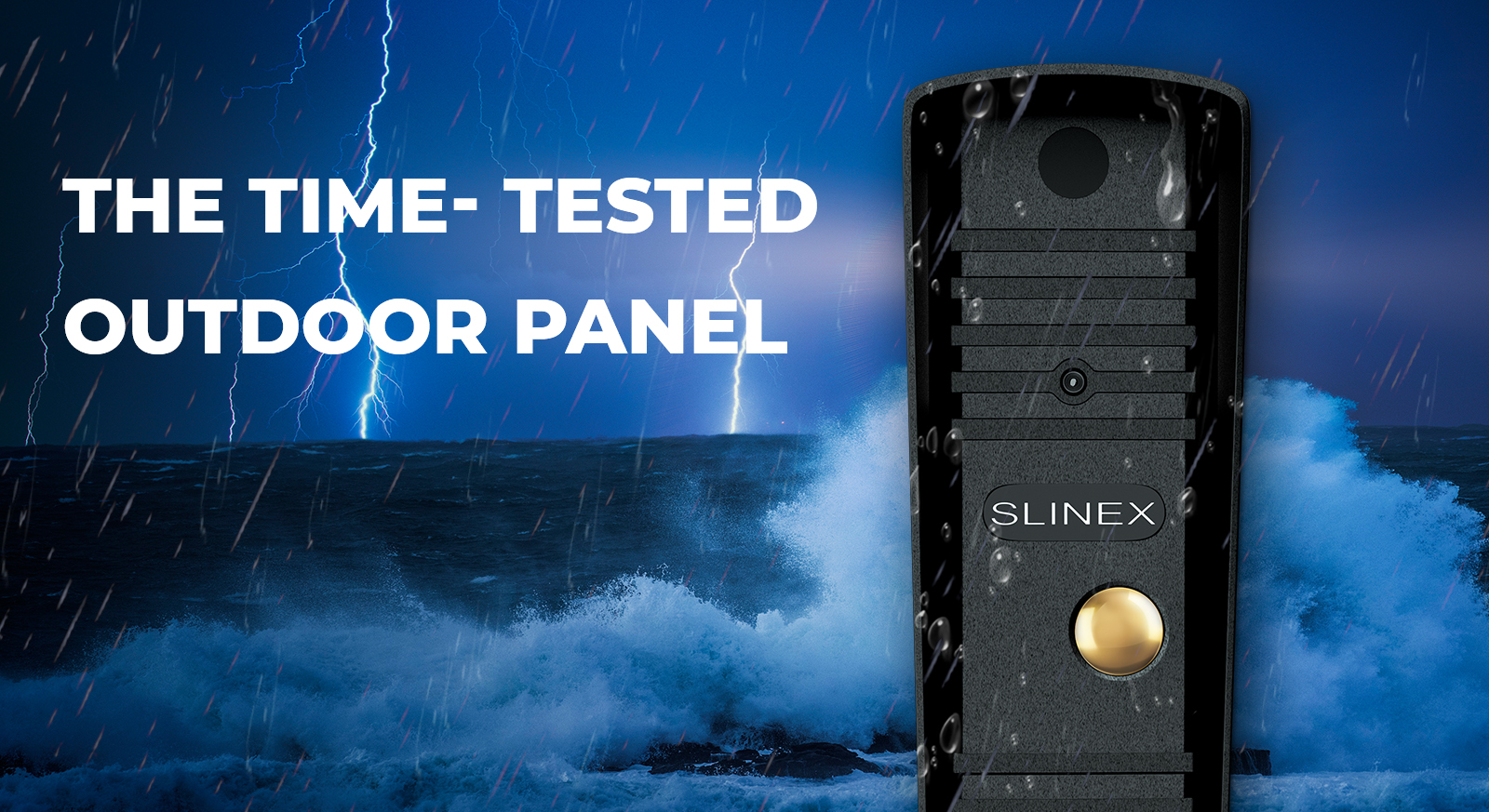 Compatibility
Thanks to the support of three video signal standards at once - AHD-H, AHD-M and CVBS, ML-16HD can be connected to almost any analog monitor. For convenience, on the back of the outdoor panel there is a mode-switching button, which makes it easy to select the desired signal type for any video intercoms.
Conclusion
ML-16HD is an outdoor station that will appeal to lovers of durable and functional devices. A modern video camera gives a high-quality image and comfort in use. The maximum protection of the case keeps the panel from natural and human interference. ML-16HD will serve you for many years.