Analogue High Definition-H (AHD-H) intercoms by Slinex
For many years, there has been limited innovation in analogue intercom systems that significantly improved the consumer experience. Of course, the most important feature of a video intercom is the quality of the video image.
The most common video transmission quality for intercom systems has historically been "D1" (720 by 576 resolution), which is basically good enough to see whom is behind the door, but is not sharp and in a world of high definition televisions and smart-phones, looks a bit outdated. ...
Background
A higher quality picture sounds simple enough.  All a user should need is a modern IP video intercom, right?  Alas, nothing is as simple as it seems. While the technology has long-existed for IP intercoms, they have proven to be much more expensive than analogue ones, owing to a number of expensive components. When faced with a higher cost, most users opted for analogue video intercoms to just "do the job".  
Slinex Announces A New Standard in Video Intercoms
Slinex, the innovation leader in Video Intercoms is constantly working to improve the user experience. Following years of research and development, Slinex proudly present its solution to the quality / price divide: Analogue High Definition-H (AHD-H) intercoms.  
Slinex Technicians working simultaneously on hardware and software have developed a line of AHD video intercoms with Crystal Pixel technology, assuring a fivefold improvement in quality (414720 pixels for D1 against 2073600 for AHD-H) transmitted from the doorbell and displayed on the video intercom screen.
Here's how AHD-H works. AHD-H is a technology for transmitting high-definition video (HD and Full HD) and audio signal over long distances using a conventional analogue (coaxial) cable. Slinex video intercoms and boards use Crystal Pixel technology, which is based on AHD-H and provides the best image quality available for analogue video intercoms. The Slinex AHD-H is unmatched in the marketplace, with other competitors implementing a lesser AHD standard. 

Advantages of AHD intercoms over IP
Slinex AHD-H video intercoms are not only superior to analogue systems. They also have several advantages over High Definition IP video intercoms.
• AHD-H video intercoms cost less than IP systems. Slinex AHD-H systems offer the best combination of features and value in the market.  
• AHD-H can run on existing wires. If you have already installed a video intercom system and want to update your technology, moving to AHD-H is as simple as replacing the boards, with no need to re-wire.  An upgrade to IP intercom by comparison, requires a total rewire from cable to fiber.  This is not only expensive and time consuming, it means grooving the walls and cutting holes for laying the wire. 
• AHD-H has no signal delay. That is, you always see the video in real time. IP video phones and lesser AHD systems have latency, meaning the board needs 2-5 extra seconds to process the signal. 
Usage Examples
Let's look at an example of an image obtained from an ordinary doorbell versus an image from a Slinex AHD-H doorbell.
We recorded the images from installations mimicking a number of different real lighting conditions. The first comparison was recorded in a slightly darkened room approximating most corridors of apartment buildings. The Slinex image is considerably clearer and better illuminated.

In the second image, taken outdoors in daylight, the Slinex detail is much higher and the colour reproduction is more natural than the standard callboard.

Slinex AHD intercoms and AHD doorbells
The full AHD-H video intercom system is the operation of both the AHD-H video intercom and the AHD-H doorbell. If you use one of these devices with AHD-H support and the second without it, the image quality on the monitor will be the same as on a "regular" analogue intercom. 
At the moment, Slinex is gradually equipping its devices with AHD-H support. Among the AHD-H video intercoms in the Slinex line, there is the SQ-07MTHD and Sonik 7 with Crystal Pixel support running on AHD-H technology. Among the doorbells that support AHD mode, there are Slinex ML-20HD, Slinex ML-20CR HD, Slinex ML-15HD, Slinex ML-16HD and Slinex ML-30CR.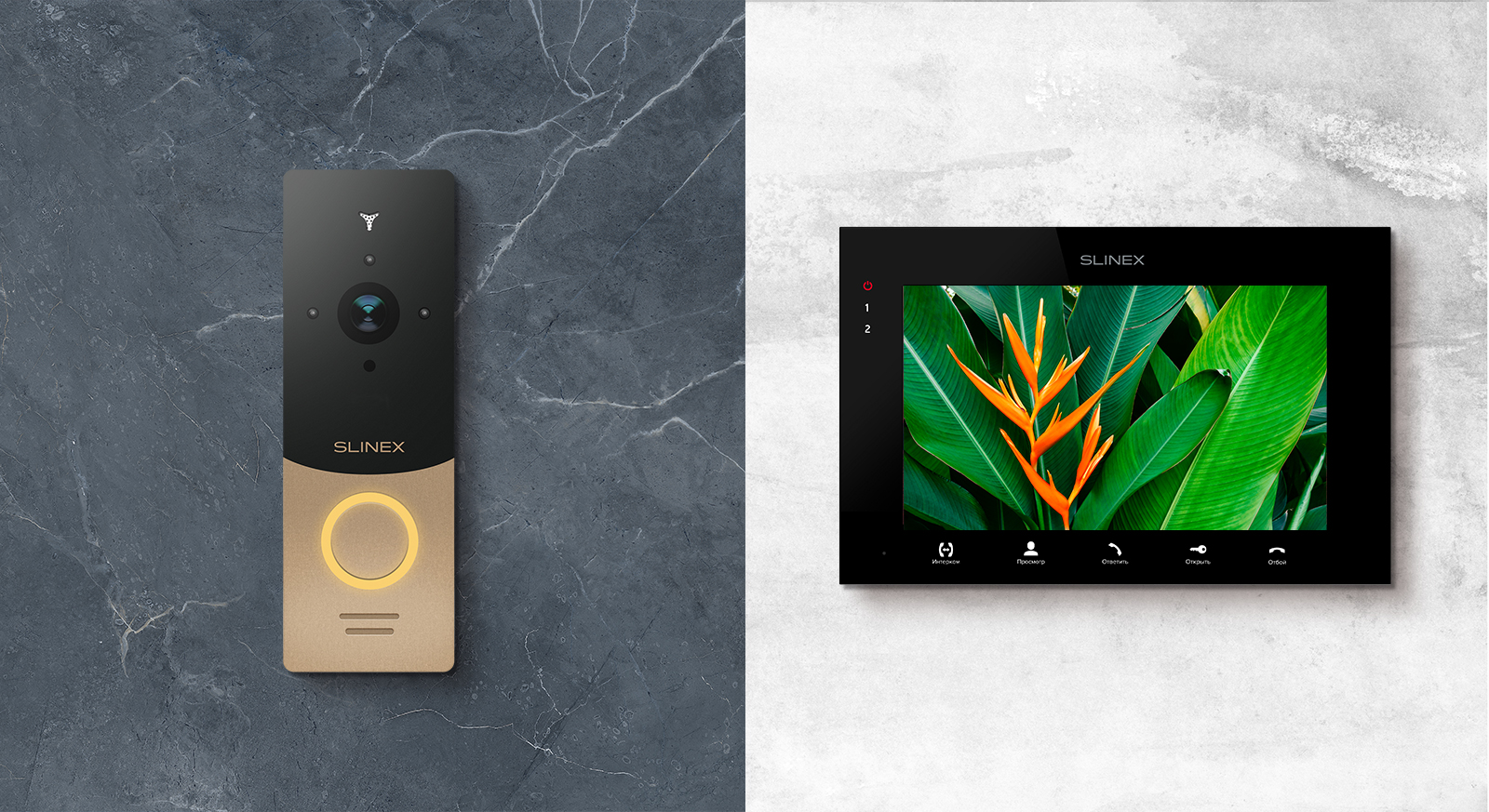 Slinex SQ-07MT HD with AHD support
Let us tell you a bit more about one of the Slinex intercoms with AHD support.
The Slinex SQ-07MT HD video intercom is the gold standard on the AHD intercom market. It boasts a 7-inch touch screen made of tempered glass offering a much better and vibrant image as well as a more responsive touch screen compared to the standard acryl screens used by most manufacturers.
The SQ-07MT HD features a bold, modern design appropriate for stylish apartments, houses or even commercial offices in which visitors can appreciate its stylish looks and features.
Thanks to AHD-H support, the SQ-07MT HD supports resolutions up to 1080p (2 megapixels) and also supports doorbells and cameras of the previous generation (analogue), as well as TVI and CVI.  Slinex SQ-07MT HD is equipped with a software (built-in) motion sensor and supports hardware motion detection. That is, you can see who came to your door, even if they did not press the button on the doorbell.
You can connect two doorbells and two video cameras to this device. It can integrate with both AHD-H and ordinary analogue cameras. Of course, Slinex recommends using AHD-H due to the much better image on the screen.
This intercom, as well as the entire line of AHD intercoms, produced by Slinex, supports MP3 melodies, which you can set as a ringtone, in addition to this, there are a software motion detection and photo frame.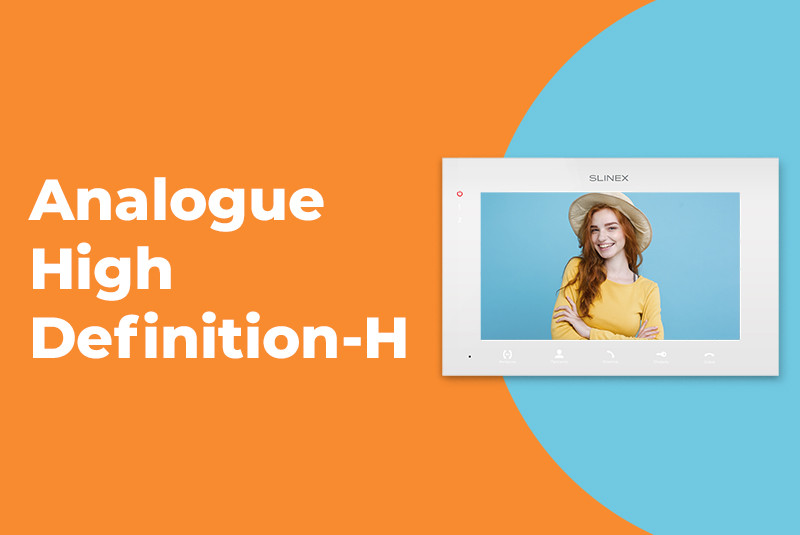 Slinex ML-20HD with AHD support
Let's also consider a Slinex doorbell that supports AHD-H, the Slinex ML-20HD.
This board stands because of its unique look.  For many years, doorbells without a hint of a pleasant appearance were popular to prevent theft and vandalism.  Today, a sleek and modern touch is preferred by discerning customers.  Slinex designs beautiful devices satisfying the most demanding customers and the most exacting design trends. This doorbell will look perfect for any object - apartments, house, hotel, shop and any other place where the look of the device is important, not just its technical characteristics.
Slinex ML-20HD supports AHD 2.0 technology, and its camera has a resolution of 2 MP (at the moment there are no AHD doorbells that support a higher resolution). In addition, it can work with conventional analogue video intercoms and can switch to CVBS mode with a resolution of 960 TVL.
The viewing angle of the doorbell is 150º, which means that regardless of the position of your visitor in front of the doorbell, they will be seen on the monitor of your video intercom or smartphone using the Slinex App.

Conclusion
Customers looking for the latest and greatest in video intercom should consider AHD-H devices by Slinex. Slinex AHD-H devices offer the best bang for the buck with a loaded suite of features and crystal clear images at the best overall price.   
If after reading this article you have any questions, please contact us at feedback@slinex.com and we will help you.