How to connect up to 20 subscribers to one Slinex call panel
Slinex offers a range of multi-dwelling calling panels which allow subscribers in different apartments or offices to view visitors at the common entrance. There are 3 devices in this line: MA-02, MA-04 and MA-08. The first two are call panels for 2 and 4 subscribers, respectively. MA-08 is an extension module, connecting up to 8 additional users. For each of the calling panels, you can connect two MA-08 modules at the same time and expand the number of subscribers to 16 and 20, respectively.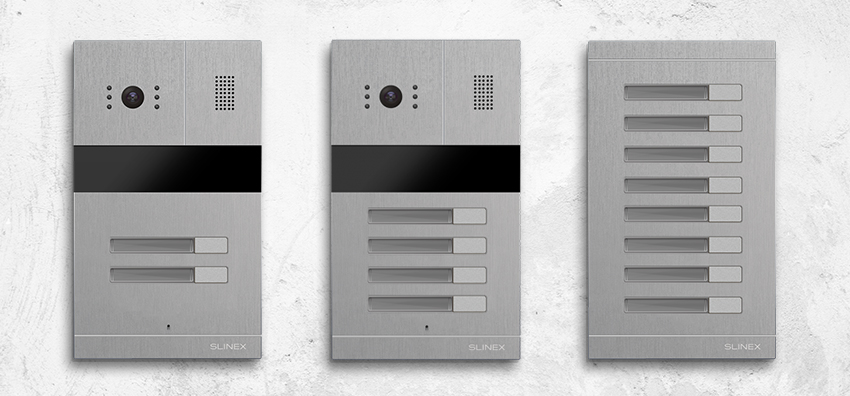 This is the perfect solution for owners:
• Private home with multiple families
• Office located in the same building with other offices
• Cottage
• Small apartment building
Examples of using
Suppose you work in an office building and the office of another company is located on the same floor as you. Of course, in this case, it makes no sense to install a multi-apartment system for hundreds of subscribers, and it is not ideal to install two individual calling panels. Probably every person has often noticed that common corridors of several companies are cluttered with door panels from different manufacturers. MA-02 and MA-04 solve this problem with simplicity and style. To call the desired subscriber, just press the corresponding button on the stylish Slinex  panel.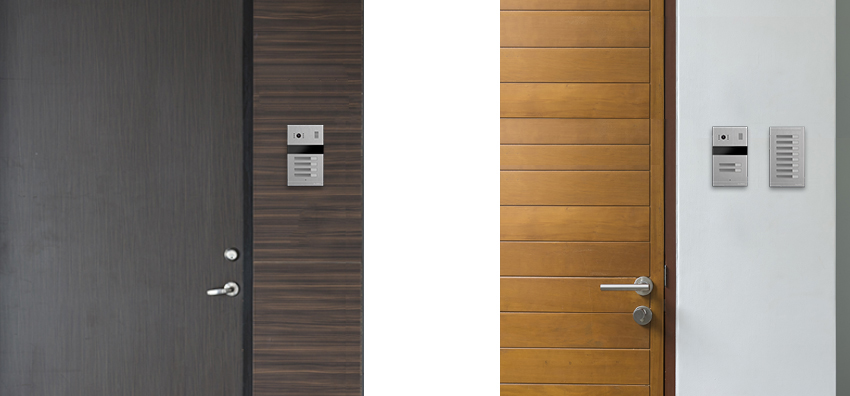 Now imagine you own a multi-tenant dwelling with 10 different families. You, as a good landlord, want to provide your residents with an intercom and safe access to the premises. The solution is simple: take MA-02, connect MA-08 to it, assign each subscriber a separate button on the panel and get a safe working system.
It is worth noting that it is not necessary to spend money installing a door phone in each apartment. The MA range is equipped with EM-Marin and Mifare proximity card readers. Just give the residents electronic keys and sleep peacefully.
Why is the MA line so good?
1. Appearance. MA panels are not like other multi-tenant solutions. The aluminum case is polished to a shine. A camera with a mechanical IR filter is surrounded by stylish LED lights. The speaker is directed towards the listener. When a wireless card is recognized, a read indicator light is activated. There is no need to remove the headphones or listen to whether the door has opened, to see the  indicator.
2. Strong case. In addition to protection against moisture and IP65 dust, it is worth noting that the entire panel is made of high-quality metal alloy, has anti-vandal protection and can withstand extreme temperatures from -40 to + 65 ° C.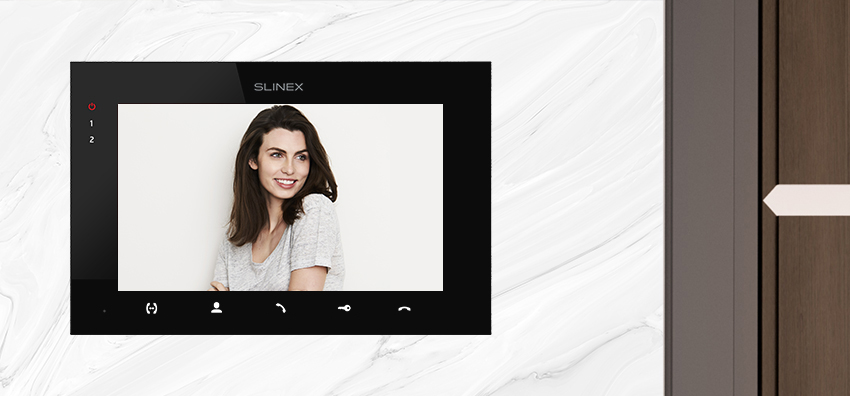 3. Camera. Usually cameras of multi-unit panels leave much to be desired. But not the MA-02 and MA-04. A viewing angle of 138˚ will allow you to see all your visitors in one frame, a resolution of 960 TVL will give a high-quality image without distortion, and a mechanical IR filter will make it possible to see visitors even at night.
4. Simple installation. Included with the panels you will find a bracket for easy, secure  mounting. Install the door station in the wall and do not leave the vandals a single chance. All parts required for installation are also supplied with the devices. If you do not want to destroy the wall, buy the Slinex MA-MB bracket for surface mounting, having previously familiarized yourself with it on our website in the "Accessories" section.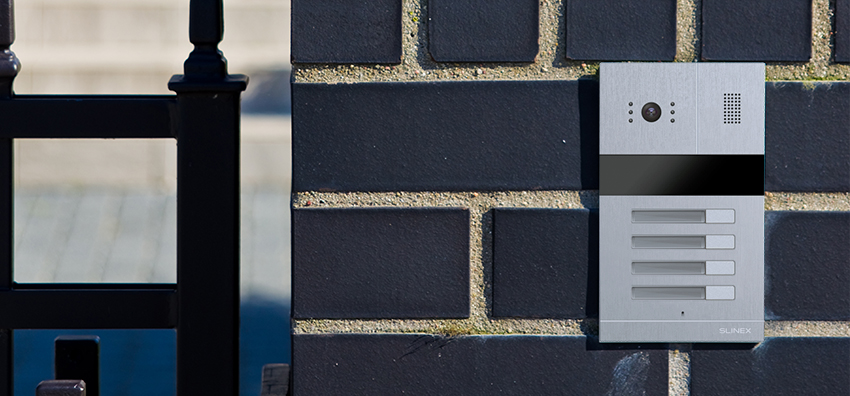 Important: before installing the MA door panels, be sure to read the connection diagrams at the link. Here,  you will find detailed information for proper installation.
Conclusion
The MA-02, MA-04 calling panels and the MA-08 expansion module are unique devices. Stylish design, reliability, a good camera and the ability to connect up to 20 subscribers make the MA line the best solution for safe access to several rooms within the same building.
MA-02 and MA-04 work with all Slinex video door phones, as well as with all other 4-wire door phones.
Go to the page of the device you need and get acquainted with the detailed characteristics: